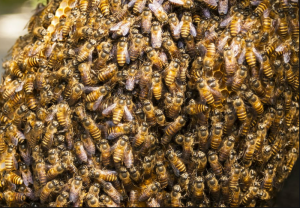 Over the wintertime, the queen bee begins laying eggs in preparation for the coming months. With the arrival of spring and warm weather bees increase their outdoor activity; along with the hatching of new bees, the hive starts to become small and congested. Just as humans need more space to live and thrive, so do honeybees. Half of the honeybee colony begins to eat as much honey as they possibly can before they relocate into a new home. They will then protect the queen by surrounding her and keeping her in the middle, thus creating a honeybee swarm. When bees swarm, they will often pick a landing place to give their scouts time to gather information on nearby habitable nesting areas. This is when bees may choose to land on the side of your home or landscape.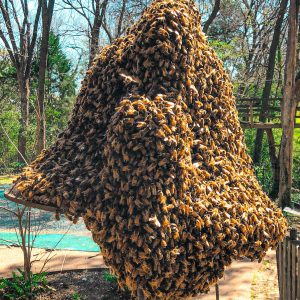 Should I be worried about bee swarms? Are they dangerous?
Bee swarms usually gather and leave within about 24-48 hours. Bees are typically waiting on their scouts to come back with the location of a place deemed suitable to build their hives and honeycombs. Once the scout bees return the bee swarm makes its move. Swarming bees are surprisingly docile; they are focused on finding a new home; not to mention the fact that they are heavy and sluggish from having their bellies full of honey. That being the case, we still suggest that you call a professional bee removal company like Bee Safe Bee Removal. Although bees tend to be more docile during the swarming process there may be a few exceptions, and we value your safety above all else. It is also a great idea to call Bee Safe Bee removal if you feel or fear that a bee swarm is choosing to turn your home into their permanent nesting place.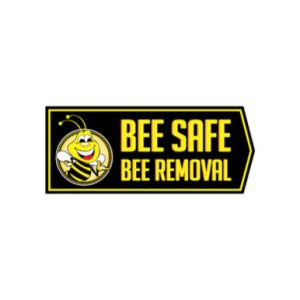 Professional Beekeepers serving the great state of Texas
Bee Safe Bee Removal has vast experience in the safe & humane removal of beehives and bee swarms. Being worried that bees may make your home their potential nesting area is entirely understandable, and we can help. Bee Safe Bee removal values your safety and protection as well as the safety of your home. We have over 40 years of experience and know just what to do in every situation that you may encounter. Calling us early before bees have time to nest and create honeycomb may be the difference from a $300 job and a $1000 job. Once honeybees are established, they will tend to be more aggressive as they no longer are full of honey. This is yet another reason to take the proper precautions and call trained professionals. So, the next time you see a beehive don't hesitate to a licensed professional bee removal company. Call 1-833-BEE-SAFE. Saving bees everywhere.